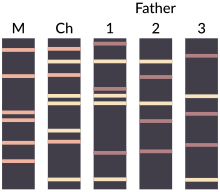 Paternity DNA testing is carried out in order to determine who the biological father of a child is. If you have doubts as to who your biological father is or you want to determine whether you could be the biological father of a child, this type of test can prove invaluable. There are many reasons why people decide that they need to have this type of test carried out and in many cases it is simply because they want to know who their father or child is. However, there are also other reasons why people have this type of test performed.
A paternity DNA test is a pretty simple process and one that is used regularly. When we are born we inherit half of our DNA from our father so carrying out a DNA test can determine whether part of a child's DNA is a match with the assumed father that is also being tested. This then provides you with conclusive information as to the identity of the biological father.
Some of the reasons why you may need this information
There are various reasons why you may need to have a paternity test carried out to find out about your biological father or child. Of course, for many it is simply a case of wanting to know once and for all who their biological father or child is, as this is not something that anyone wants to have doubts about. However, some of the other reasons why people decide to have a paternity DNA test include:
In relation to child support
For child custody reasons
For immigration
For the birth certificate
In relation to tax issues
In connection with estate and wills
In relation to a court order
For adoption reasons
For legal reasons
By using paternity testing experts to find out this information, you can benefit from greater peace of mind and conclusive results. When you use a reputable facility, the results are checked and verified to ensure you never have to worry about inaccuracies or even mixed up results.
Arranging a DNA paternity test with the experts
If you need to have a paternity DNA test carried out for any reasons, you need to ensure you go to a reputable facility with experience staff to carry out the testing. You can do this by contacting one of the leading DNA testing centers in NYC.